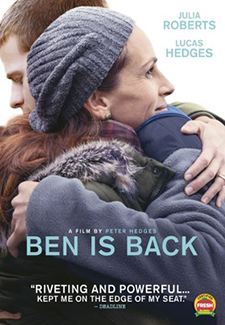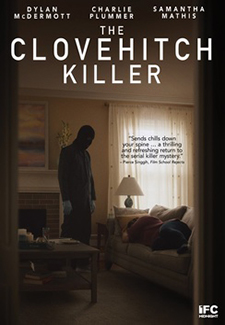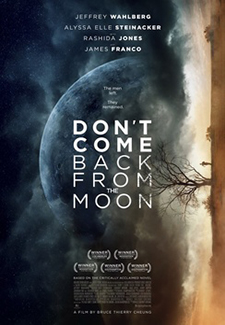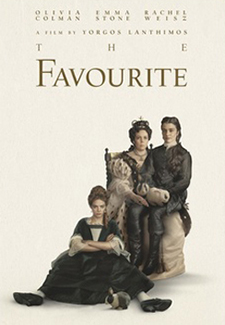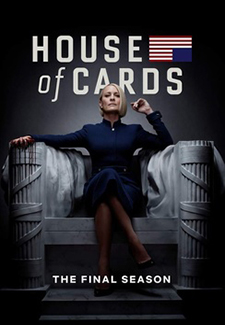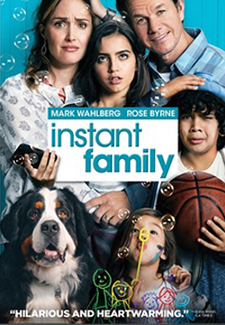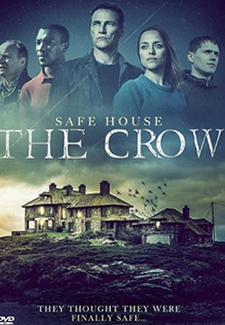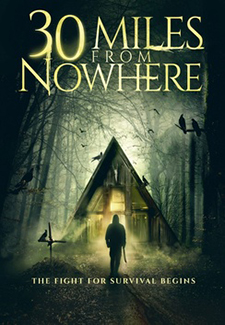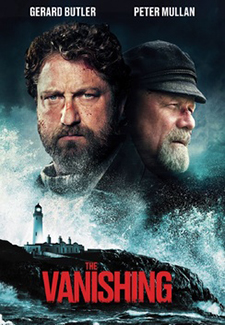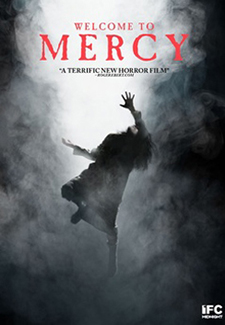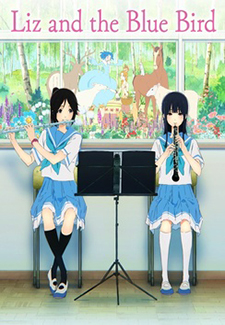 Before & After (1996) (PG13) Classic/Drama/Suspense – Meryl Streep, Liam Neeson
A small town pediatrician's life is thrown into turmoil when her teenage son Jacob disappears and is suspected of brutally murdering his girlfriend.
Ben Is Back (R) Drama – Julia Roberts, Lucas Hedges
19-year-old Ben Burns unexpectedly returns home to his family's suburban home on Christmas Eve morning, where he struggles to stay clean.
Burning (2018) (NR) Foreign/Drama (South Korea)
A frustrated introvert whose already difficult life is further complicated by the appearance of two people. Based on a story by author Haruki Murakami.
The Clovehitch Killer (NR) Suspense/Mystery – Dylan McDermott, Charlie Plummer
In this chilling portrait of all-American evil, a picture-perfect family is shattered when the work of a serial killer hits too close to home.
Creed II (PG13) Sports/Drama – Michael B. Jordan, Sylvester Stallone
Under the tutelage of Rocky Balboa, heavyweight contender Adonis Creed faces off against Viktor Drago, son of Ivan Drago.
Dead Ant (NR) Horror
A one-hit-wonder glam-metal band embarks on a road trip to Coachella in hopes of a comeback, but instead get caught up in a grisly attack.
Devil's Path (NR) Studio Q/Thriller/Drama
Two men encounter each other on a dangerous gay cruising park trail, and quickly find themselves caught up in a deadly game of cat and mouse.
Do It Yourself (NR) Foreign/Thriller (Greece)
A small time crook agrees to star in a viral video, which can restore the public image of a prominent businessman.
The Doctor (1991) (PG13) Drama – William Hurt, Christine Lahti
An aloof California surgeon becomes a cancer patient and begins to see things differently. Directed by Randa Haines.
Don't Come Back from the Moon (NR) Drama/Sci-Fi – James Franco, Rashida Jones
Fathers in a small California desert town abandon their children one by one leaving behind a wake of anger and crime as their sons and daughters come of age.
Don't Go (NR) Drama – Stephen Dorff, Melissa George
Devastated by his daughter's death in a terrible accident, Ben becomes convinced that he can bring her back through a recurring dream
Duets (2000) (R) Comedy/Drama – Maria Bello, Paul Giamatti
Six hopeful, disparate singers converge on Omaha, Nebraska for a shot of winning a $5,000 grand prize at a karaoke contest.
8 Minutes Ahead (R) Drama
When their dying father makes a sudden change to his will, two half-brothers from different worlds decide what they value most – money or family.
The Favourite (R) Drama – Olivia Colman, Emma Stone
In early 18th century England, a frail Queen Anne occupies the throne and her close friend, Lady Sarah, governs the country in her stead.
The Good, the Bad & the Ugly (1969) (R) Classic/Western – Clint Eastwood
50th Anniversary release of Sergio Leone's iconic "Spaghetti Western" that made Clint Eastwood a superstar.
Guard Dog (NR) Family
Nine-year-old Chance Watson is lying, cheating, stealing, and flunking out of school. Then, one night, a magical sheepdog appears and promises to make his dreams come true.
Gunpowder (NR) Drama (Miniseries) – Kit Harington, Liv Tyler
Activist Guy Fawkes and a group of disgruntled, persecuted provincial Catholics conspire to blow up the House of Lords and kill King James I in the early 17th century.
I Hate Kids (PG13) Comedy – Tom Everett Scott, Tituss Burgess
Nick, writer of "I Hate Kids", is about to get married when 13-year-old Mason claims to be his son.
If You're Gone (NR) Drama/Romance
When a high school senior disappears the night of his graduation ceremony, his girlfriend is forced to question everything she thought she knew about him and their relationship.
Instant Family (PG13) Comedy – Mark Wahlberg, Rose Byrne
A couple who have long wanted a family find themselves in over their heads when they foster three children.
Jupiter's Moon (NR) Foreign/Suspense (Hungary)
A Syrian refugee trying to make his way into Hungary from war-torn Serbia is caught, along with his father and many other wretched souls.
Liz and the Blue Bird (NR) Animated/Adventure
Charming coming of age tale about two Japanese high school student whose love of music takes them on a life-changing adventure.
Long Shadow (NR) Documentary
When two daughters of the South set out to find causes for the continuing racial divisions in the United States, they discovered that the politics of slavery didn't end after the Civil War.
Marrying Mr. Darcy (NR) Hallmark/Romance
Some six months after they first crossed verbal swords at a Washington D.C. dog show, Elizabeth Scott and Donovan Darcy are newly engaged with challenges on the horizon.
The Mercy (PG13) Drama/Adventure – Colin Firth, Rachel Weisz
The incredible story of amateur sailor Donald Crowhurst and his solo attempt to circumnavigate the globe.
Of Fathers and Sons (NR) Foreign/Documentary (Germany/Syria)
Filmmaker Talal Derki returns to his homeland where he gains the trust of a radical Islamist family, sharing their daily life for over two years.
100 Yards (NR) Sports/Drama
A talented quarterback playing for an American team faces a double tragedy when his mother goes missing the Philippines, and he is diagnosed with a brain tumor.
Out of Love (NR) Foreign/Drama (Netherlands)
Varya and Nikolai share a turbulent relationship, where genuine love and hope contend with destruction and despair.
Prospect (R) Sci-Fi
A teenage girl and her father travel to a remote alien moon aiming to strike it rich, but there are others roving the wilderness and the job quickly devolves into a fight to survive.
Regionrat (NR) Drama
After six months in Seattle, Ray, broke and lonely, decides to return to the Region, his depressed hometown, to finish his senior year where he falls into old habits.
Rehearsal (NR) Action/Comedy
An aging British theatre director is forced to hire a young Hollywood action star to guarantee an audience for the Anton Chekhov play he is mounting.
Safe House: The Crow (NR) Suspense/Mystery – Stephen Moyer
After leaving the police force, a former lives a with his wife in the northern coast of Wales when a shocking crime breaks, and his life is turned upside down.
Scars of Xavier (NR) Horror/Thriller
A quiet man works in a car wash service by day, but by night he is vicious serial killer until a chance meeting with a waitress changes everything.
The Standoff at Sparrow Creek (NR) Suspense/Mystery
After a mass shooting at a police funeral, reclusive ex-cop Gannon realizes that the killer belongs to the same militia he joined after quitting the force.
The Unlikely Good Samaritan (NR) Family/Drama
An ex-convict and mysterious drifter looking to find new meaning in life crosses paths with a proud, young, small-town pastor with a secret past.
30 Miles from Nowhere (NR) Suspense/Thriller
When five friends from college return to rural Wisconsin for their estranged friends funeral, what begins as an uneasy reunion becomes a terrifying fight for survival.
The Vanishing (NR) Adventure/Suspense – Gerard Butler, Peter Mullan
After three lighthouse keepers arrive for work on a remote Scottish isle, they make a fateful discovery: a wrecked rowboat with a chest full of gold.
Viking Siege (NR) Action/Adventure
During a wild night of debauchery, a gang of vengeful women plot to massacre a monastery full of corrupt monks who sold their loved ones as slaves.
Vox Lux (R) Drama – Natalie Portman, Jude Law
An unusual set of circumstances brings unexpected success to a pop star, and many years later another act of terrifying violence demands her attention.
Welcome to Mercy (NR) Horror
When a single mother begins to experience symptoms of the stigmata, she seeks the help of a local priest and nun to help her understand what is seen and unseen.
What Lies Ahead (NR) Suspense/Mystery – Rumer Willis, Emma Dumont
When two young women are thrown together on an unexpected road trip, a surprising and aggressive peril emerges between them that grows stronger with each passing mile.
New TV & Series Releases
Brokenwood Mysteries: Season 5
Condor: Season 1
Fear the Walking Dead: Season 4
Krypton: Season 1
House of Cards: Season 6
Shakespeare & Hathaway: Season 1 (BBC)
New Kids & Family Releases
Barbie Dreamtopia: Festival of Fun
Top Wing: Eggcellent Missions