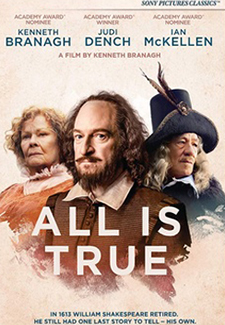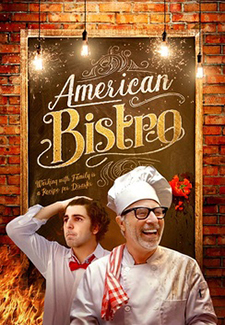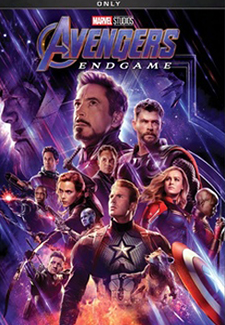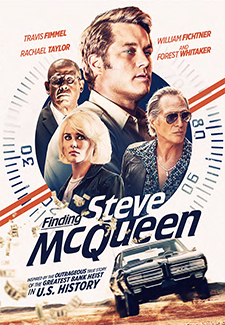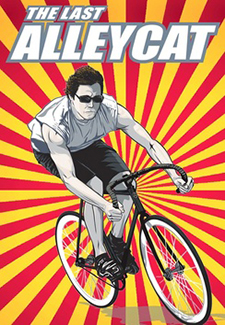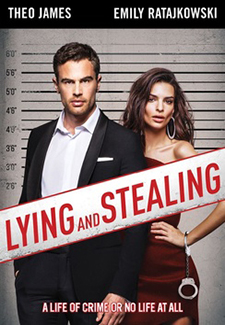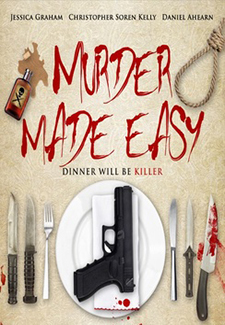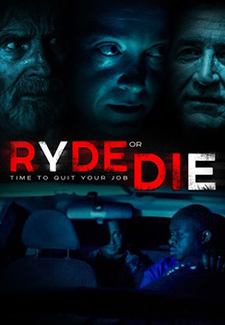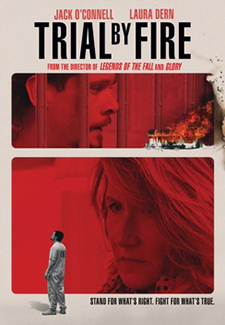 All is True (PG13) Drama/Comedy – Kenneth Branagh, Judi Dench
In 1613 Shakespeare faces disaster when his renowned Globe Theatre burns to the ground, and he returns to Stratford to face a troubled past and a neglected family.
Another Stakeout (1993) (PG13) Classic/Comedy/Crime – Richard Dreyfuss, Emilio Estevez
The hilarious hard-charging Seattle detectives from Stakeout (1987) are back, this time forced to go undercover with an inexperienced Assistant D.A. (Rosie O'Donnell).
American Bistro (NR) Comedy/Drama
A cuckolded accountant and his depressed nephew reconnect and save one another by opening a restaurant in Los Angeles.
Avengers: Endgame (PG13) Superheroes/Sci-Fi – Robert Downey Jr., Chris Evans, Bradley Cooper
After the devastating events of Infinity War, the Avengers assemble once more in order to reverse Thanos' actions and restore balance to the universe.
Beyond Tomorrow (1940) (NR) Classic/Drama
The ghosts of three tycoons killed in an airplane crash play Cupid for a couple on Christmas Eve, then guide them from the hereafter.
Blackmail (1929) (NR) Classic/Crime/Drama
From the Master of Suspense, Alfred Hitchcock's first full-length feature, a thriller about a woman fighting off a sleazy blackmailer.
Damned Summer (NR) Foreign/Drama (Portugal)
Drifting youth in Lisbon content themselves in idling afternoons, drugs, heartbreaks, and psychedelic moods immersed in music.
Enigmas of the Ancient World (NR) Documentary
Welcome to a world of mystery and legend, from the great civilizations of antiquity we will discover the amazing works of architecture and art, and a world of wonder that remains at times an enigma.
Finding Steve McQueen (R) Crime/Action
In 1972, a gang of thieves attempt to steal $30 million in illegal contributions and blackmail money from President Richard Nixon's secret fund.
Inland Sea (NR) Documentary
Film based on author and film scholar Donald Richie's 1971 poetic travelogue about his explorations of the islands of Japans Inland Sea.
Is That You? (NR) Foreign/Horror (UK/Cuba)
When her father goes missing, 13-year-old Lili uses a spiritual ritual to find him but she gets it wrong and her life turns into a nightmare.
The Last Alleycat (NR) Drama/Sports
A disillusioned fixed-gear cyclist competes in a grueling 80-mile race to renew his spirit.
Love Struck Cafe (NR) Hallmark/Romance
An aspiring architect faces multiple tasks developing her hometown lake into a commercialized entertainment center.
Lying & Stealing (NR) Crime/Drama
A gifted and discerning art thief is drawn to an aspiring actress whose mounting debt and past transgressions in Hollywood haunt her.
Murder Made Easy (NR) Horror
Best pals Joan and Michael invite their dearest friends over for a cordial dinner where dark secrets are revealed and murder is definitely on the menu.
Notes on an Appearance (NR) Drama
A young man disappears amid talk of violence and demagoguery, leaving behind an obscure cache of letters, postcards, and notebooks.
The Other Side of Everything (NR) Documentary
For Serbian filmmaker Mila Turajlic, a locked door in her mother's apartment in Belgrade provides the gateway to both her remarkable family history and her country's tumultuous political inheritance.
Port of Shadows (1938) (NR) Classic/Drama
Port of Shadows (Le Quai Des Brumes) is director Marcel Carns (Children of Paradise) controversial adaptation of the Pierre Mac Orlan novel of the same name.
Professor & the Madman (NR) Drama – Mel Gibson, Sean Penn
As Professor James Murray begins compiling words for the first edition of the Oxford English Dictionary, he receives over 10,000 entries from a patient at a lunatic asylum.
Rafiki (NR) Foreign/Studio Q (Nairobi)
Tender love story between two young Nairobi women in a country that still criminalizes homosexuality.
Razzia Sur La Chn (1955) (NR) Classic/Foreign/Crime/Drama
After a spell in the U.S.A., master criminal Henri Ferr dit Le Nantais returns to Paris and is recruited to oversee and improve the efficiency of their distribution.
Route 66: Kitsch and Mystical (NR) Documentary
The United States is home to a highway that has captured imaginations for nearly a century, a mythical route part of American folklore, even of the great American dream: Route 66!
Ryde or Die (NR) Suspense/Thriller
An Uber driver experiences a night of terror after picking up a sadistic killer who forces him to participate in a series of violent and twisted road games.
Searching for Ingmar Bergman (NR) Documentary
Internationally renowned director Margarethe von Trotta takes a closer look at Bergman's life and work and explores his film legacy with Bergman's closest collaborators.
Shadow (NR) Foreign/Action (China)
In Pei, a kingdom ruled by a young and unpredictable king, the military commander faces peril both inside and outside the palace walls.
Showdown/My Samurai (NR) Classic/Martial Arts
Two 1990s martial arts classics, 1993's Showdown and 1994's My Samurai.
Stained (NR) Suspense/Mystery
A disillusioned suburban California couple decides to plan their own dark version of the American Dream.
Touchez Pas Au Grisbi (1954) (NR) Classic/Foreign/Suspense (France)
An aging, world-weary gangster is double-crossed and forced out of retirement when his best friend is kidnapped and their stash of eight stolen gold bars demanded as ransom.
Trial By Fire (R) Drama – Jack O'Connell, Laura Dern
True-life Texas story of the unlikely bond between an imprisoned death row inmate a mother of two from Houston.
Unplanned (NR) Drama
Abby Johnson, one of the youngest Planned Parenthood clinic directors in the nation, witnesses something that makes her rethink her position about women's reproductive choices.
Vault (R) Crime/Drama
In 1975, a group of small time criminals attempt to pull off the biggest heist in American history; stealing over $30 million from the Mafia.
When Calls the Heart: Heart of a Mountie (NR) Hallmark/Romance
A new Mountie arrives earlier than expected, Bill and Nathan jump right to work when Lee's payroll is stolen and Carson and Faith try to keep their romance a secret.
New TV & Series Releases
Anastasia: The Mystery of Anna (Miniseries) (NR) – 8/13
The Blacklist: Season 6 (NR) – 8/13
Homeland: Season 7 (NR) – 8/13
Law of Perdition (NR) – 8/13
Mr. Mercedes: Season 2 (NR) – 8/13
New Amsterdam: Season 1 (NR) – 8/13
Spanish Princess: Season 1 (NR) – 8/13
New Kids & Family Releases
T.O.T.S.: Bringing this Baby Home – 8/13