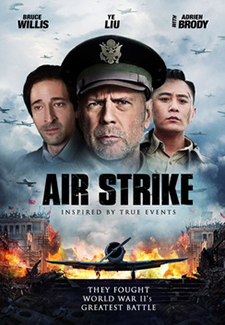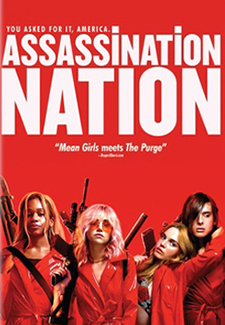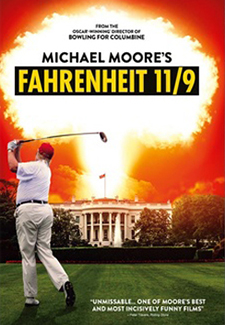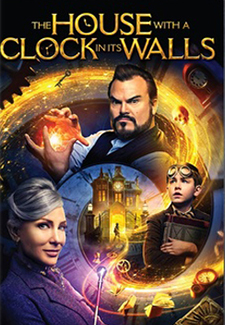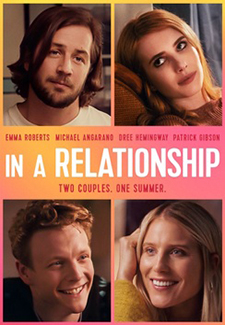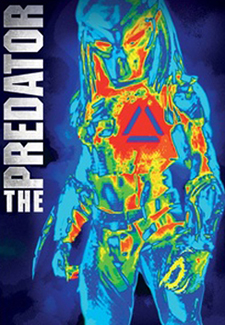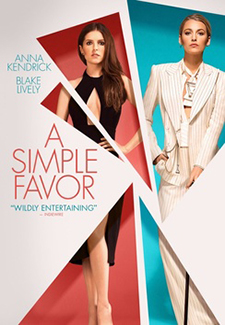 Air Strike (R) War/Action – Bruce Willis, Adrien Brody
During World War II, five different Chinese people fight their way through Japanese Air Force attacks to protect an important military machine in Chongqing, 1940.
All About Nina (NR) Comedy/Drama – Mary Elizabeth Winstead, Common
A provocative up-and-coming New York stand-up comedian flees to Los Angeles to escape a difficult relationship and chase her dream.
Assassination Nation (R) Suspense
After a malicious data hack exposes the secrets of the perpetually American town of Salem, chaos decends and four girls must fight to survive.
En el Séptimo Dia (On the Seventh Day) (NR) Drama
A group of undocumented Mexican immigrants work long hours six days a week, and then savor their day of rest on Sundays on the soccer fields of Brooklyn.
Fahrenheit 11/9 (R) Documentary
Filmmaker Michael Moore examines the current state of American politics, particularly the Donald Trump presidency and gun violence.
House with a Clock in Its Walls (PG) Family/Fantasy/Comedy – Jack Black
Spine-tingling tale of 10-year-old Lewis who goes to live with his uncle in a creaky old house with a mysterious tick-tocking heart.
Howard Lovecraft and the Kingdom Of Madness (NR) Animated/Family
After conquering R'yleh and the Frozen Kingdom young Howard Lovecraft must now travel to the Undersea Kingdom in order to free his captured family.
I Miss You When I See You (NR) Foreign/Studio Q/Drama (Hong Kong)
Jamie re-encounters his old school friend, Kevin, who has been suffering from depression and must make a choice between following his heart or society.
In a Relationship (NR) Comedy/Drama – Emma Roberts, Michael Angarano
A funny, deeply felt chronicle of one summer in the lives of two couples, one coming together while the other breaks apart.
Little Women (PG13) Drama
A modern retelling of Louisa May Alcott's classic novel, following the lives of the four March sisters, and their passage from childhood to womanhood.
Memoir of War (NR) Foreign/War/Drama (France)
Marguerite must navigate through the hardships of the Liberation after losing her husband and starting a relationship with the enemy during the War.
Monster Party (NR) Horror
Three teenage thieves infiltrate a mansion dinner party secretly hosted by a serial killer cult for the social elite.
Mrs. Right Guy (NR) Comedy
A traumatized young woman who rejects men long before they can get too close must learn to break away from her self-imposed exile from love.
Panique (1946) (Critereon) (NR) Foreign/Drama (France)
A French killer and his mistress frame a lonely man for murder in the eyes of an angry mob.
The Predator (R) Sci-Fi/Horror
From the outer reaches of space to the small-town streets of suburbia, the hunt comes home in Shane Black's explosive reinvention of the Predator series.
Schindler's List: 25th Anniversary (R) War/Drama – Liam Neeson
This incredible true story follows the enigmatic Oskar Schindler, who saved the lives of more than 1,100 Jews during the Holocaust.
Simple Favor (R) Suspense/Mystery – Anna Kendrick, Blake Lively
A mommy vlogger seeks to uncover the truth behind her best friend's sudden disappearance from their small town.
The Super (R) Suspense
A former cop takes a job as a building superintendent. When several tenants go missing, he suspects a sadistic murderer may be roaming the eerie corridors.
Venom (R) Superheroes/Action – Tom Hardy, Michelle Williams
When Eddie Brock acquires the powers of a symbiote, he will have to release his alter-ego "Venom" to save his life.
New TV & Series Releases
Dr. Blake Mysteries, The: Season 5
Our Cartoon President: Season 1
The Sinner: Season 2